Now accepting new patients
Hard to find elsewhere
Dr. Anderson provides a level of care in terms of quality and service that is hard to find elsewhere. Getting in touch with him is easy, as is getting a quick appointment. The office itself has a comfortable atmosphere—very unusual for a doctor's office! I am very happy with the care I've received!
Kevin Ring
Y'all all need to sign up immediately!!!
I had my first appointment with Dr. Anderson today. I cannot say enough great things. He took the time to get to know not only my complex medical history, but me as a person. It is 100% worth the subscription fee to walk away from the insurance beholden system we have right now that is ridiculously expensive and impersonal. KUDOS to Dr. Anderson and his team.
Mac Mary
Our family loves Dr. Anderson!
He has always addressed our medical concerns immediately with kind concern and thoroughness.
Julie Walton
Dr. Anderson is wonderful.
I have seen many medical professionals for my issues, and he has helped me the most. Thank you.
J.A.
Dr. Anderson gets it!
His new practice is great! I don't have to deal with the crap that has become so common for a doctor's appointment — rushed visits, random fees, being on hold forever when I call, etc. 
I am very grateful this fine doctor calls Lynchburg home!!
Dr Anderson is a very caring, concerned, compassionate, knowledgeable, and personable doctor. He listened to my symptoms, and recommended "nerve flossing", which alleviated most of my sciatica pain. 
Karen M.
Thorough and thoughtful:
He read all my medical history before he even met me for the first time. Since then, he has kept up with the changes in my medical condition through communicating with my specialists and keeps up with the other things in my life that are important to me – grandchildren, work, and just everyday life. He is a genuine man.
New practice fits his style of caring
We followed Dr. Anderson to his new practice in Boonsboro. He is able to spend more time with my husband and his complicated medical problems.
Down to earth
Did Osteopathic manipulation on my back and took care of weeks of problems in only 3 visits. Also gave me exercises that keep me out of pain. He knows his stuff!
Rare find
Dr. Anderson is one of those rare finds, someone who practices medicine well and takes the time to listen.  I'm happy to hear he is opening his own practice.
Craig
Such a blessing
I was under Dr. Anderson's care for 2 years at a prior practice. When he left, I lost a trusted doctor…and a wonderful counselor!!! It's been weeks of frustration trying to see another primary care physician. Such a blessing to have Dr, Anderson "back in the saddle"!
Jim Arnold
The ideal family doctor
He listens. He teaches at the medical school and is up-to-date on the latest in medicine. He will chat with you on the phone instead of a nurse/receptionist. And he actually CARES! Thank you for caring for and caring about my family, Dr. Anderson.
I wish I had done it sooner.
Dr. Anderson cares. His new practice model is proof of this. It is worth the monthly cost. 
Dan, Madison Heights VA
His new practice just makes sense!
I love his new office! He has always taken time with me and my family, but now he has even more time to dedicate to his patients. It has been a great thing for our family!
Amanda, Forest VA
I'd recommend him to anyone!
Dr. Anderson is caring, compassionate, thorough, and just an all around nice guy. It's refreshing to see a doctor who actually takes time to listen.
Peter DeReus
His new practice is just what we need in Boonsboro.
I feel like I can lower my guard and trust the advice I'm getting from Dr. Anderson.
It's worth every penny!
I walked right in and saw the doc. He listened. We made a plan together. And then, he personally called to follow-up a few days later. Dr. Anderson is the best!
Dr. Anderson is a good doctor and he cares for his patients.
Gary Blankenship
He listens
Dr. Anderson is friendly, has a good sense of humor, and most importantly—listens and takes your thoughts and preferences into consideration when developing a plan of care. His staff is friendly and helpful and contribute to an overall pleasant experience.
Kevin Ring
His new practice style is the future.
We get more attention from the doc than any other office I've been to! We don't have to fuss with insurance, waiting rooms, sitting on hold when I call the office. I can email him a question and he personally writes back. Love it!
Bob, Alta Vista VA
Unmatched
He has helped me more than any other doc! Has a great sense of humor. And his bedside manner is unmatched. His new office is very nice. It doesn't feel like a doctors office…and that's a good thing!
He will treat you like family.
Dr. Anderson is very knowledgeable and does all he can for his patients. I trust him to take care of my family.
Torrie Goodell
Dr. Anderson was a breath of fresh air.
He listened to me. He answered my silly questions. He is well-read on current medical literature and explained things to my understanding.
Dr. Anderson is very knowledgeable, great with kids and adults alike! He is also aware of problems associated with Lyme disease, which is a huge plus for our area!
Leslie Gonzales
Family oriented doctor
Dr. Anderson is great. Really caring doctor. So much easier to get seen here now that he has his own practice.
Angel David Verde
Very professional and personable!
I would highly recommend Dr. Anderson. He genuinely cares about our family and he is highly competent. 
Experts say the risk of getting Lyme and other diseases is going up. This step-by-step guide could help.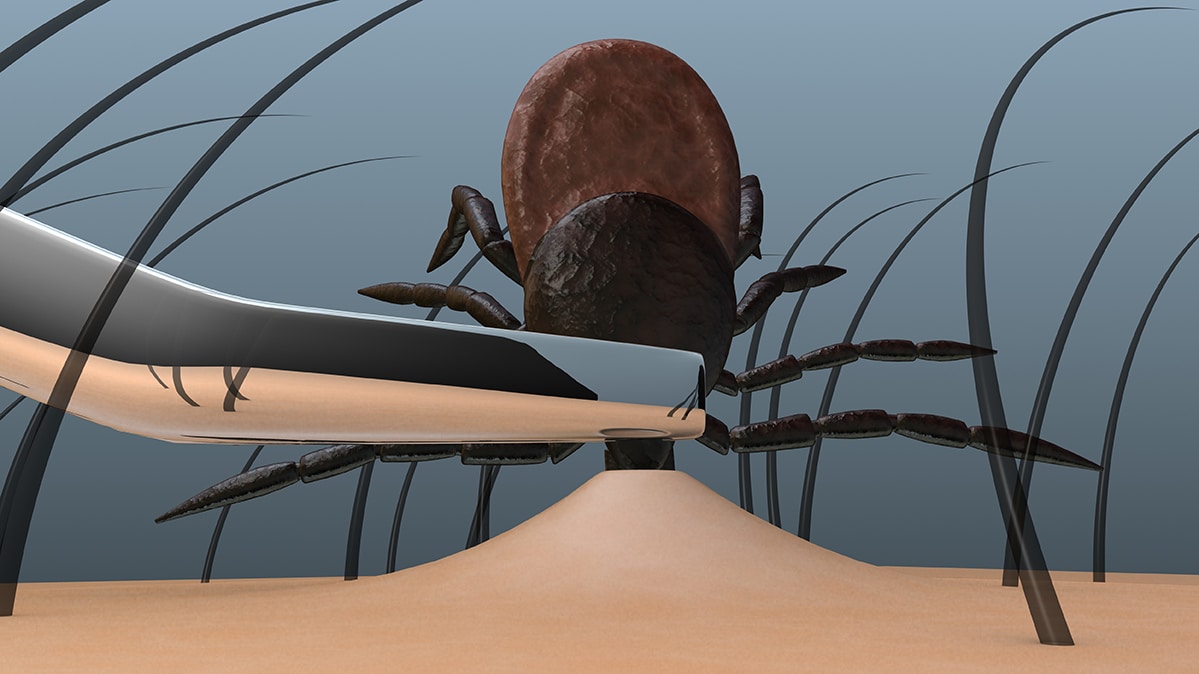 It's a myth that ticks die off in winter. It's true that they stop seeking blood meals when the weather is freezing. But they can survive quite well under the snow; adult ticks especially are able to wait the winter out.
As spring approaches, they emerge from their hiding places and resume their quest for food, latching on to dogs and deer and mice and men.
It starts as early as March, which means that in many parts of the country, tick season is already here.
It's tough to say how dire any given tick season will be. There are many factors that play a role, and outbreaks of diseases like Lyme and Rocky Mountain spotted fever (another tick-borne disease) can vary tremendously from one community to the next.
But experts say that overall, the specter of insect-borne diseases is getting worse. "Mosquitoes and ticks are being found in new areas where we haven't seen them occurring before," says Benjamin Haynes, a spokesman for the Centers for Disease Control and Prevention. And the list of diseases they carry is growing longer. According to one CDC study published last year, since 2004 seven new tick-borne diseases have been discovered in the U.S.
There are many simple steps you can take to protect yourself from getting bitten by a tick in the first place. But when those precautions fail, you'll want to know the best way to find these bloodsuckers and the right way to remove them from your body.  
Know Where and How to Look
The CDC recommends that you bathe or shower as soon as possible after returning from a tick-prone area. You're more likely to find ticks crawling on you that way, and you might even catch them before they bite. 
You should also conduct a full-body tick check if you can. Use a full-length mirror to examine all parts of your body for insects. And if you can't get to a shower or mirror right away, you should at least check the most likely hiding places. Ticks love dark, moist places like armpits, the groin, behind the ears, and the base of the skull, near the hairline.
It's important to do these checks as soon as possible. While some pathogens (like the bacteria that cause Lyme disease) take up to 72 hours to pass from tick to human, others (like the Powassan virus) can be transmitted in a matter of hours. The faster you find the tick, the less likely you are to become infected.  
The Right Moves
If you find a tick, don't panic! The CDC's protocol for removing them is quite simple: 
1. Use fine-tipped tweezers to grasp the tick as close to the skin's surface as possible.
2. Once you have a firm grasp, pull upward with steady, even force. Don't twist or jerk the tick, because you might cause its mouth parts to break off and remain in the skin.
3. If you accidentally break the tick apart, try removing the mouth parts with the tweezers. If you can't, leave it alone and let the skin heal. 
4. You can dispose of the tick in one of several ways: Submerse it in alcohol, place it in a sealed bag or container, wrap it tightly in tape, or flush it down the toilet. (Never handle a tick with your bare fingers; pathogens called spirochetes can pass from the tick to you through even tiny breaks in your skin.) 
5. Once the tick is disposed of, thoroughly clean the bite area and your hands with rubbing alcohol, an iodine scrub, or soap and water. 
6. Check the bite area for several weeks after removal. If you develop a rash there (or have a fever at any point in that time frame), see a doctor about getting tested for Lyme and other tick-borne diseases. 
What Not to Do
There's no shortage of alternative tick-removal strategies to be found online. Most of those folk remedies have long since been debunked. A 1985 study in the journal Pediatrics compared several popular strategies (using Vaseline, nail polish, or a hot kitchen match) with the tweezers technique described above and found that none worked nearly as well. 
Fancy tools: There are several tick-removal devices on the market, but the CDC says that a plain set of fine-tipped (pointy) tweezers or a thin, curved forceps (available at a regular pharmacy) is really all you need. These simple instruments are perfect for gripping the tick close to the skin and avoiding its bloated abdomen, which can burst open if you squeeze it. 
Suffocation: One popular folk remedy for removing ticks involves trying to "suffocate" them with butter, petroleum jelly, or some other thick, waxy substance. This won't kill the tick, and by delaying tick removal to try it, you increase the likelihood that disease-causing pathogens will pass from the tick's body to yours. 
Heat: Another popular tick-removal strategy involves using heat, usually in the form of a glowing match, to get the tick to detach from your skin on its own. This approach doesn't work because heat will only encourage the tick to burrow deeper into your skin. It also wastes precious time. Your goal is to remove the tick as quickly as possible, the CDC writes. You don't want to wait for it to detach.